Our favorite videos, or rather all the videos we can put our hands on, ordered from new to old.
16. We love this 2021 video made by Quincy University TV upon the occasion of Free Frank Freedom Day, September 13. Thank you faculty and students for helping explain and promote New Philadelphia!
---
15. We're very pleased to share video of the Sep 13, 2021 event at the New Philadelphia site and some video of Brigadier General Donald Scott's remarks at the Barry Baptist Church.
---
14. All our June 2021 Likes Lectures were recorded and you can find those videos here.
---
13. Here's a spring 2021 clip of Representative La Hood visiting New Philadelphia: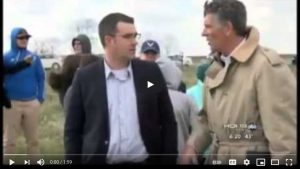 ---
12. In February 2021 the authors of New Philadelphia spoke online, hosted by Illinois College in Jacksonville, Illinois. Have a look at the slides, watch the video below.
---
11. Fashioning Illinois: History Lost and Found is a wonderful video about a New Philadelphia dress made by a talented and thoughtful Springfield dressmaker.
In 1817 Lucy McWorter was the first McWorter to gain her freedom when Frank began his lifelong project of buying family members. As a result of this choice, her son Squire was born free just a few months later. The family eventually moved from Kentucky to Illinois to further their freedom mission. One outcome was the town of New Philadelphia.
Fast forward 100 years, and Mary Helen Yoakum is the Springfield, Illinois, dressmaker who combined modern day patterns with her own know-how to reproduce Lucy's dress from a photo handed down through the family. She's also a volunteer at the Springfield and Central Illinois African American History Museum.
The dress is part of a current exhibit "Fashioning Illinois" at the Illinois State Museum. Big thanks to the Illinois State Museum and curator Erika Holst for bringing these two women together AND producing this 10 minute video. Take a look!
---
10. In July 2020 The Civil War Museum in Kenosha, Wisconsin, hosted a New Philadelphia talk by Gerald McWorter and Kate Williams-Mcworter — The New Philadelphia Story: Can America Be America Again? — on their Facebook page (https://www.facebook.com/CWMKenosha/posts/1666665186823423). The museum focuses on Civil War issues and events across the Midwest. We are so pleased to be linked to them in this way. The chat stream at and soon after noon included live interaction with the authors.
---
9. Representing the New Philadelphia Association, Gerald McWorter joined other representatives of the nation's Underground Railroad sites to read the renowned Frederick Douglass speech, "What to the Slave is your Fourth of July?" The July 2020 recording was organized and posted online by the National Park Service.  Mr. Douglass delivered the speech in 1852.  It has rung true and been recited ever since.
For an explanation AND the video see here. Gerald appears at 46:48 into the video, which is also viewable below.
---
8. Here's a 2019 talk "Abolitionist Village to the Smithsonian – Gerald McWorter and Kate Williams-McWorter" by the authors of the New Philadelphia Association's book about the town and its story. They were hosted by Professor Paul Shackel, who led years of archaeology work on the site.

---
7. Our 2020 Like Lectures were online due to the pandemic and three were recorded. Find Bill Camphouse, Erika Holst, and Charlotte Johnson elsewhere on our site.
---
6. Here's a 2019 talk by Gerald McWorter and Kate Williams-McWorter at the University of Illinois Springfield. The event was UIS's  prestigious annual ECCE lecture.

---
5. Here's a 2013 video-recording of Ms. Charlotte King, a researcher and director of the New Philadelphia Association, testifying at a Congressional hearing in support of federal legislation for the National Park Service to develop the New Philadelphia National Landmark site as a unit within the NPS.
---
4. Please watch the great 2009 episode of the WILL-TV (PBS) "Prairie Fire" program about New Philadelphia, which includes interviews with Abdul Alkalimat (Gerald McWorter), Sandra McWorter, Adeola Adegbola, Chris Valvano, Paul Shackel, and Emily Helton, among others.
---
3. We used to be able to share the New Philadelphia episode of the Time Team America series, filmed in 2008 and broadcast by PBS in early 2009. Now it's not available in the US. If things change we'll post it again. If you find it first, please write to us!
---
2. Aaron Chambers of the Rockford Register Star presented a terrific 2007 video-recorded and multi-media presentation entitled "New Philadelphia: A Town Like No Other." We are seeking a new link from the publisher as the one below is bad. Please check back.
View the Presentation
---
1. In 2006, ABC7Chicago's Janet Davies with produced a 26-minute introduction with Hosea Sanders, "Rediscovering a Black Pioneer's Dream." Many informed Pike Countians, descendants, and scholars tell the story.