Charlotte E. Johnson spoke on June 9, 2020—Family Ties in Pike County—recording here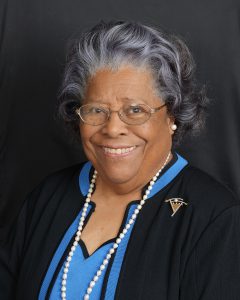 Our first online Likes Lecture was a well-attended hit with 50 people present. New descendants of New Philadelphia showed up from Idaho.  More than a few people remembered Marvin and Tom Likes.
Charlotte E. Johnson (shown at left) spoke for 30 minutes or so on "Family Ties in Pike County" and then there was discussion.  In addition to working as a music educator for many years, Mrs. Johnson is a renowned historian and genealogist. Her family has long lived in Wood River, Illinois, near Alton, working their sesquicentennial farm. They are related to and have long known the McWorters. They even lived in New Philadelphia at various times.  Enjoy the recorded talk below.  View the slides too.
Do join us for next talk on Tuesday, June 16 at 7 pm Illinois time, Erika Holst on Illinois Fashion 1820-1920, including a New Philadelphia dress.  Check out our full schedule and get in touch for the event URL.
Video and audio below.  We apologize that the first moments of Charlotte's talk were not recorded.  She began with this:
I would like to share with you the Wood River Johnson Family connections with some of the residents of Pike County. 106 years ago, at Oak Leaf Farm in Wood River, Illinois there was a grand reunion.  The Oak Leaf Farm was established by James Henry and Eleanor Madden Johnson in 1850.  The host for this reunion was their son, William and his wife Mary Ballinger Johnson.  They were the owners of the family farm in 1904.

The 1904 reunion was held for 3 days.  The table was spread for over 100 people. Family members came from Wood River, Alton, Sorento, Edwardsville, Decatur, Grand Junction, Colo., Los Angles, Calif., and 10 members from Pike County, Illinois. …
Audio: