2020 Likes Lectures taking place online June 9, 16, 23—join us!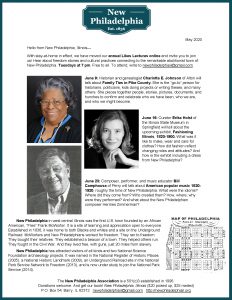 To get the link to attend, send email to newphiladelphiail@gmail.com. As events are over, click the ALL CAPS links below for recordings/details.

With stay-at-home in effect, we have moved our annual Likes Lectures online and invite you to join us! Hear about freedom stories and cultural practices connecting to the remarkable abolitionist town of New Philadelphia. Tuesdays at 7 pm. Free to all. To attend, write to newphiladelphiail@gmail.com.
June 9: Historian and genealogist Charlotte E. Johnson of Alton will talk about Family Ties in Pike County. She is the "go-to" person for historians, politicians, kids doing projects or writing theses, and many others. She pieces together people, stories, pictures, documents, and hunches to confirm and celebrate who we have been, who we are, and who we might become. MORE HERE
June 16: Curator Erika Holst of the Illinois State Museum in Springfield will tell about the upcoming exhibit, Fashioning Illinois, 1820-1900. What was it like to make, wear and care for clothes? How did fashion reflect changing roles and attitudes? And how is the exhibit including a dress from New Philadelphia? MORE HERE
June 23: Composer, performer, and music educator Bill Camphouse of Perry will talk about American popular music 1820-1920, roughly the time of New Philadelphia. What were the idioms? Where did they come from? Who created them? How, where, why were they performed? And what about the New Philadelphian composer Hermes Zimmerman? MORE HERE