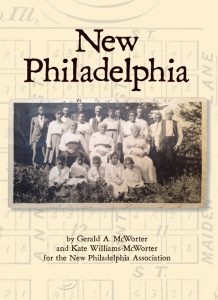 New Philadelphia has been written about for decades. This latest book covers 200 years in 200 pages with 200 images, many not seen outside of family collections.  Read about the book in the Quincy Herald-Whig or the Illinois Times. $20 picked up (shops listed below, or email jeffm@adams.net), or $25 by mail using the button below.
The Paper
Barry Public Library
Ruthie's Blackberry Run
In Pittsfield, IL:
Casteel's
Bloomers
William Watson Hotel
Or contact New Philadelphia Association, P.O. Box 54, Barry, IL 62312.
Our vendor Books on the Square in Springfield keeps the book on Amazon for us. Thank you!  Buy on Amazon.
Other books address the history of New Philadelphia and its founder:
D. W. Ensign, Atlas Map of Pike County, Illinois. Andreas, Lyter & Co., Davenport, Iowa, 1872.
Charles C. Chapman, History of Pike County, Illinois. Charles C. Chapman & Co., Chicago, Illinois, 1880.
Grace E. Matteson, "Free Frank" McWorter and the "Ghost Town" of New Philadelphia. Pike County Historical Society, Pittsfield, 1964.
Helen McWorter Simpson, Makers of History. Laddie B. Warren, Evansville, Indiana, 1981.
Juliet E. K. Walker, Free Frank: A Black Pioneer on the Antebellum Frontier. University Press of Kentucky, Lexington, 1983 (reissue edition 1995). We also have copies of this for sale, contact us for details.
Paul A. Shackel, New Philadelphia: An Archaeology of Race in the Heartland. University of California Press, Berkeley, 2010.
Chris Fennell, Broken Chains and Subverted Plans: Ethnicity, Race, and Commodities. University Press of Florida, 2017.