New Philadelphia Arnett Property Acquisition
The New Philadelphia Association acquired 20.23 acres of the Arnett estate property of the historic New Philadelphia town site on October 16, 2017.  The parcel includes all of Blocks 4, 5, 6, 7, 13, 14, 15, 16 and 17.
The NPA now owns 24.76 acres within the town boundaries, 3.10 acres of property on which the Burdick House is situated and land surrounding the house and 1.34 acres east of the Burdick House.  In addition, the NPA owns a 2.10 acre parcel that includes a lane leading from the township road in front of the Armistead house to the McWorter (African-American Cemetery) and 7.72 acres of land around the McWorter Cemetery.   The Archaeological Conservancy owns 9.14 acres within the town boundaries of the historic site.
Plat Map of New Philadelphia (Source: D. W. Ensign, Atlas Map of Pike County, Illinois, Davenport, Iowa: Andreas, Lyter & Co. 1872, p. 84, Illinois Historical Survey Collections, University of Illinois, Urbana-Champagne)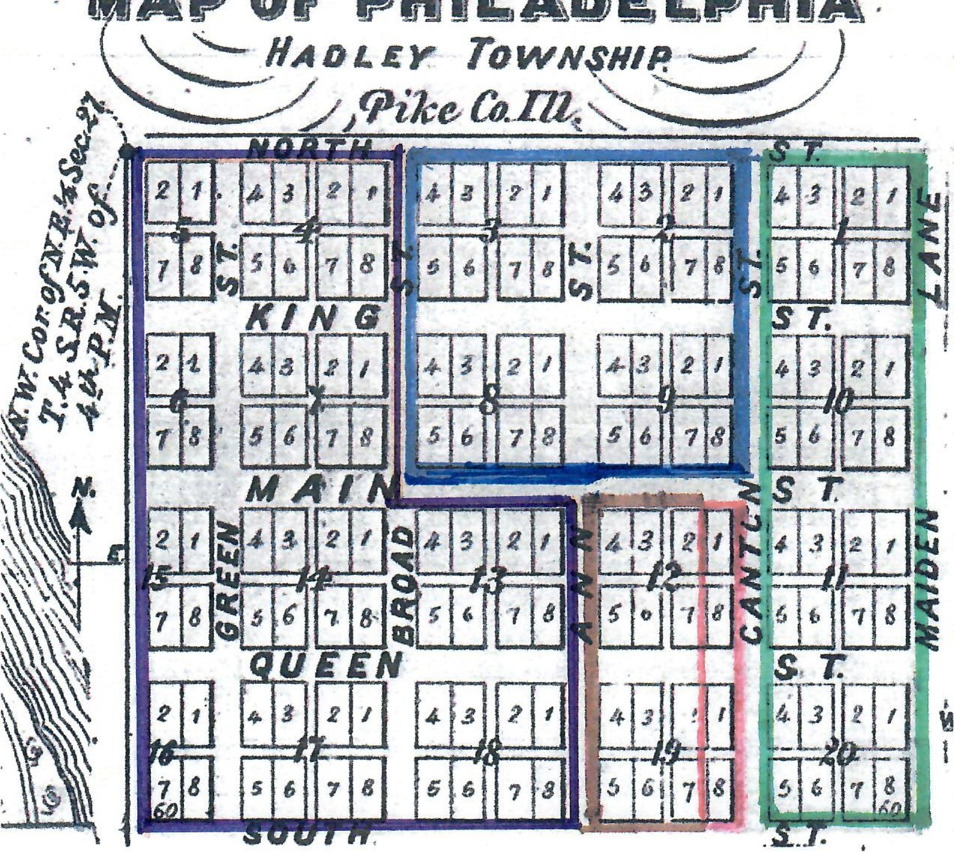 Tract III – NPA – 1.34 acres
Block 12 – Lots 1, 8
Block 19 – Lots 1, 8
Arnett Land Purchase – 20.23 acres
Block 4 – Lots 1,2,3,4,5,6,7,8
Block 5 – Lots 1,2,7,8
Block 6 – Lots 1,2,7,8
Block 7 – Lots 1,2,3,4,5,6,7,8
Block 13 – Lots 1,2,3,4,5,6,7,8
Block 14 – Lots 1,2,3,4,5,6,7,8
Block 15 – Lots 1,2,7,8
Block 16 – Lots 1,2,7,8
Block 17 – Lots 1,2,3,4,5,6,7,8
Tract IV – TAC – 9.14 acres
Block 2 – Lots 1,2,3,4,5,6,7,8
Block 3 – Lots 1,2,3,4,5,6,7,8
Block 8 – Lots 1,2,3,4,5,6,7,8
Block 9 – Lots 1,2,3,4,5,6,7,8
Tract V – NPA – 3.10 acres
Block 12 – Lots 2,3,4,5,6,7
Block 19 – Lots 2,3,4,5,6,7
Philadelphia Land Trust – 7.89 acres
Blocks 1,10,11,20 – Lots 1,2,3,4,5,6,7,8