Two ways to hear the New Philadelphia story—on July 14, 2020 and (we think) after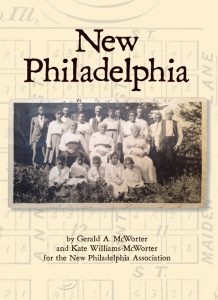 Gerald McWorter and Kate Williams-McWorter, who wrote the 2018 book New Philadelphia for the New Philadelphia Association, continue to attract audiences for the story even in the pandemic. Two ways you can catch their presentations:
At noon central time on Tuesday, July 14 The Civil War Museum in Kenosha, Wisconsin, hosts them talking on their Facebook page (https://www.facebook.com/CWMKenosha/). The museum focuses on Civil War issues and events across the Midwest. We are so pleased to be linked to them in this way. The chat stream at and soon after noon will include live interaction with the authors.
At 7 pm central time, also on Tuesday, Gerald and Kate speak online to an audience hosted by the Champaign County (IL) Genealogical Society. The public is welcome; write to newphiladelphiail@gmail.com for the zoom details to attend.
The book sums up and contextualizes archaeological discoveries, longstanding knowledge, family evidence, and 25 years of local history work on New Philadelphia. The authors call it "200 years in 200 pages with 200 photos," many not seen before. It's available from us here.
We hope these events will remain available as recordings; if so we'll link to them here.